Lenawee Community Foundation's 2017 Prestigious Incito Award Winner is Megan Porter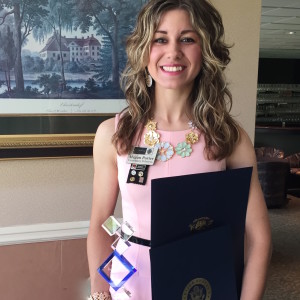 Excerpts from The Daily Telegram article published on April 26, 2017 written by Dmitrly Shapiro
Lenawee Leaders-Volunteers honored at annual breakfast
Adrian-Those who give were honored Tuesday at the Lenawee Community Foundation's annual breakfast meeting.  The meeting at the Lenawee Country Club highlighted the organizations accomplishments in the past year and honored the county's most outstanding volunteers, donors and community partners.  . . . The Incito Award was given to Megan Porter.  . . .Porter said her award, which goes to a community member under age 40 who inspires others through their volunteer work, represented great businesses and leaders giving back to the community by mentoring young people such as herself.  She encouraged others to take the time to mentor.
"It only took one person to believe in me, to teach me and to help me grow.  It only takes one leader to plant the seed of potential in the lives of others,"  Porter said.  "I am accepting this award as a reminder to all of us to slow down and lead others-no matter your age, your job position, agenda-find time to lead, motivate."
Porter referred to her group of friends and role models as her "tribe", saying, "to change the world, you better have a tribe of your own."
Megan Porter is the community relations manager for Cambrian Senior Living with locations serving both Lenawee and Oakland Counties.  Megan began her career with Cambrian as a caregiver, and has earned her way to her current position as a result of the leadership she has demonstrated along the way over the past 7 years.  "Megan is truly an inspiration to others in all she does.  She leads by example, and excels because of the work ethic she puts forth in all tasks, big or small" says Denise Zebley, managing member of Cambrian Senior Living .