Grand Opening Celebration in Lyon Township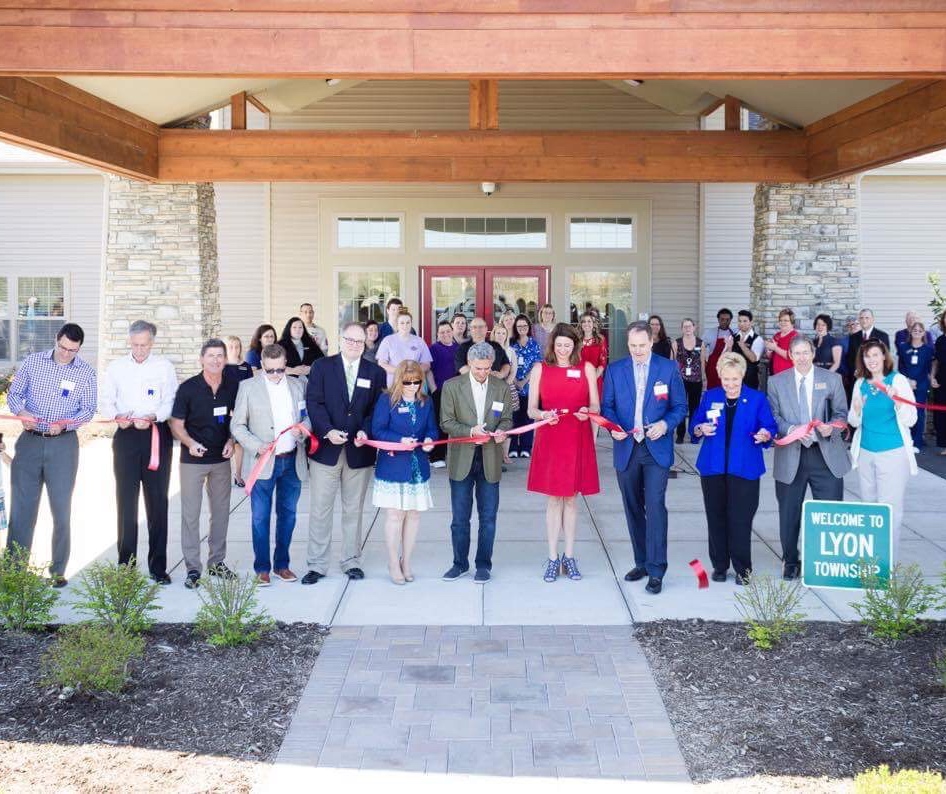 Lyon Township, Michigan: Sunday, April 23rd, 2017
Cambrian Senior Living softly opened the bright red signature doors to the brand new residential community back on February 27th, 2017, the day following their Home for the Aged licensing approval by the State of Michigan. More than 2 dozen residents were anxiously awaiting for the approval and immediately began staggering their move-ins into the community over the next few weeks that followed. Giving themselves some time to let the dust settle and to get operations in order, the management team chose not to hold a formal grand opening until this past Sunday, April 23th.
Cambrian Senior Living located at 52365 Ten Mile Road in Lyon Township consists of a total of 71 apartments. 33 private apartments are dedicated to offering traditional assisted living services while the remaining 38 include a specialized focus for those individuals living with Alzheimer's, dementia, or other types of memory loss. Operations are managed by The Cambrian Group whose owners are local South Lyon residents Gareth and Denise Zebley.
In addition to the many dozens of construction jobs the project has brought to the area over the past 24 months, the new business has already hired about 25 individuals and will ultimately add up to about 85 new permanent employment opportunities as the resident census grows to full occupancy. "Cambrian opened with reservations for about a third of the apartments which quickly became occupied within the first month of operations. We believe this rate is a testament to the unmet needs of local families dealing with the challenges of caring for a loved one", said Denise Zebley, co-owner. Prior to Cambrian opening local residents would need to leave the South Lyon/Lyon Township area when their care needs escalated.
The assisted living setting is unique and was designed with an elegant, charming home like feel. The memory care areas are designed with a focus on the specialized needs of the resident living with memory loss. Cambrian also addresses safety concerns with a variety of state-of-the-art technology systems put into place to give families the peace-of-mind they've been seeking. The details of the living spaces range from careful color and pattern selections, to a multitude of elements that cater to enhancing all five senses. Mood lighting, aromatherapy, tactile projects such as gardening or baking fresh cookies or breads, compliment the visually comfortable elegance of the setting. Menu selections range from simple to gourmet at times and also provide a specialty focus on meals for the resident living with dementia. The activity programming is robust and offers a variety of small group activities. The building provides numerous spaces which can be adapted for use as needed. And, the interior hallways and outdoor walkways are designed with a continuous flow which allows residents to be on the go for as long as they wish.
Various state and local community leaders attended the Grand Opening Celebration with special presentations and kind, congratulatory remarks. Linda Lawther, President of Michigan Center for Assisted Living based in Lansing, MI was in attendance along with Kathy Crawford, Michigan State Representative, Christina Archer, Economic Developer for Lyon Township, Lance Krajacic, Jr, President & CEO at Hantz Bank, as well as other respected figures who all helped make Cambrian Senior Living a reality for Lyon Township.